York County Heritage Rail Trail
Make the Outdoors Your Great Escape!
Make your York vacation one to remember with a visit to the Heritage Rail Trail County Park, where you can enjoy year-round activities amid rural landscapes, historic sites, and urban attractions.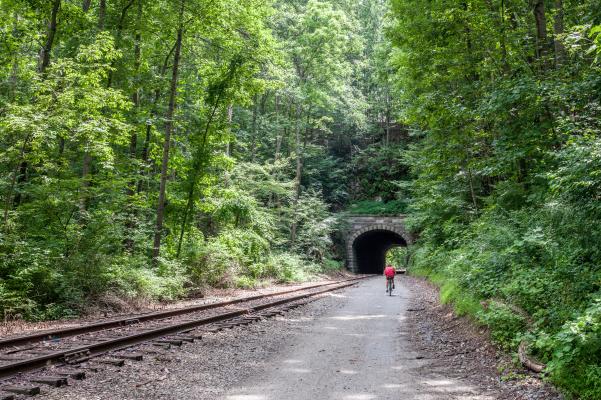 About the Heritage Rail Trail in York, PA
Extending approximately 30 miles between the City of York and the Mason-Dixon Line, the trail weaves through 11 municipalities and connects to the Torrey C. Brown Rail Trail in Maryland.
With an easy grade, 10-foot-wide paths of compacted stone and asphalt – also ADA-accessible – the trail offers an enjoyable journey for everyone. And though it's a modern-day attraction, established in 1992, it resides among centuries-old locomotive history. The Northern Central Railway of York, an authentic replica of the 1860s steam locomotive, offers train excursions and runs adjacent to the trail, so stay clear of the tracks.
Things to Do
Whatever the season, there's an activity for you at Heritage Rail Trail County Park. During the spring and summer months, enjoy numerous activities, from biking and horseback riding to walking and running. In the fall season, the trail's foliage explodes with vibrant autumn colors, a sight to behold. When winter rolls around, you can enjoy cross-country skiing and snowshoeing.
Historic Attractions
Beyond the Northern Central Railway, the park is home to countless more historical sites you can enjoy along your journey. 
Pay a visit to two historic railroad stations, Hanover Junction and New Freedom, which both played a vital role in the Civil War. The Hanover Junction was a stop along president Abraham Lincoln's journey to deliver the Gettysburg Address. Both stations are listed on the National Register of Historic Places. So is the stone-arched Howard Tunnel, which opened in 1838, making it one of the oldest active railroad tunnels in the country. 
Another must-see site along the trail is the reconstructed Colonial Courthouse, home of the second continental congress, now part of the York County History Center's Colonial Complex. 
Create your dream York, PA, getaway by adding this outdoor attraction to the list.
Nearly 30 miles of rail trails for walking, cycling, equestrians and all forms of non-motorized, recreational uses. Beautiful scenery, historic sites, small town centers and...