The work-from-home trend sparked by the pandemic has morphed into work vacations, or "workcations." Instead of sitting at the kitchen table or in a home office, employees are getting the job done while visiting their favorite destinations.
If you're looking to mix business with pleasure, York County, PA, is one of the best places to be a digital nomad.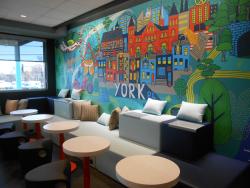 Hotels for Remote Work
High-speed Wi-Fi, workspaces, and business centers are essential for seamless productivity and happy bosses. Luckily York is full of hotels with various price points that fit the bill.
Top hotels for remote work include Best Western Westgate Inn, Comfort Inn & Suites – York, Four Points by Sheraton York, Heritage Hills Resort, Holiday Inn Express & Suites – York Northeast, La Quinta Inn & Suites, Quality Inn & Suites, and The Yorktowne Hotel. 
For a more intimate experience, stay at a local bed-and-breakfast. If you're bringing your pup along, plenty of pet-friendly lodging options are available, including some of the hotels mentioned above.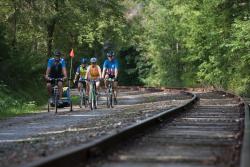 All Work and No Play is Not OK
Play helps with creativity and motivation, making your work shine brighter. There are plenty of things to do in York County when you're not on the clock.
Step away from technology and reconnect with nature. Explore the Susquehanna River on a kayak or paddleboard. Enjoy nearly every activity you can think of – biking, snowboarding, and hiking – across the 4,500 acres of public parks. Take a swing at one of our championship-quality golf courses.
Beer lovers can explore York through our Susquehanna Ale Trail, highlighting our local craft breweries. If you're more into fermented grapes than hops, there's the Mason-Dixon Wine Trail. If you like to keep it neat, hit the Keystone Craft Spirits Trail. If you enjoy them all, triple cheers!
If you're a history buff, journey to the past at area museums, like the York County History Center, featuring four museums in one. See pivotal sites and landmarks of American history, including the Civil War era, across York County.
Art enthusiasts will appreciate the variety of galleries, symphony performances, stage plays, and national touring acts across York venues. If you're a hands-on type, see how things are made or make it yourself during a factory or artisan tour.
Unwind at a local spa and enjoy facials, body treatments, and more. If retail therapy is your favorite pastime, you'll find plenty of shopping options, from malls to farmers markets.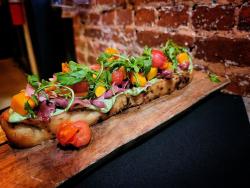 Skip the Dishes
If you need a break from the hotel, take the laptop to one of the cozy coffee and tea shops in York, and work on your project with a warm tea or coffee in hand. The Hive Coffee House & Cafe is a popular gathering place with a variety of coffee drinks, teas, smoothies, baked goods, and lunch items.
After work or on weekends, dine at the top York restaurants and discover delicious cuisine and varying dining experiences. Casual eateries serve everything from hearty breakfasts and burgers to tacos and soul food. Enjoy brunch on Sundays or almost any day of the week at ROOST Uncommon Kitchen, known for its freshly baked biscuits and smoked meats.
For an elevated experience, reserve a table at one of our upscale restaurants. Take a trip to Italy at Tutoni's Restaurant, serving handmade pasta dishes and fresh ingredients in every dish. Find innovative American cuisine, ranging from steak to seafood dishes, at Left Bank Restaurant & Bar.
With amenity-filled hotels, fun attractions, vibrant restaurants, and cozy cafes, York, PA, is one of the best places to be a successful digital nomad.