Enjoy the beautiful weather and some delicious food in York County this summer and fall! For even more options on where to dine while you're in town, check out more dining options here.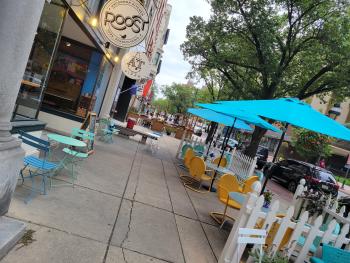 Serving fantastic pizza, tasty sandwiches, GearHouse Brewing Co. beer, and specialty cocktails. At Archetype, they are serious about pizza, but pizza isn't that serious, have fun!
With water features and sunny views of the course, the patio at Avenue Ale House has some of the county's best outdoor seating in the summer. Live entertainment draws a large crowd to the fresh air and stunning views of the golf course. It's a favorite spot among locals and out of town guests alike!
Open since the summer of 2023, the Moreira family has brought a taste of Portugal to downtown York. Their Portuguese cuisine is a celebration of fresh ingredients, bold flavors, and simple preparations.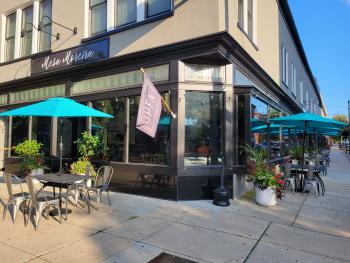 Looking for an outdoor brunch option? Scratch-made biscuits, house-smoked meats, and crispy hashbrowns are some of the many comforting dishes they serve. What's brunch without mimosas? They now serve cocktails and beer as well!
With one-of-a-kind craft beers made in-house as well as high-end lunch and dinner options, South County Brewing provides you with an experience you won't soon forget. Their patio makes for an excellent outdoor dining experience.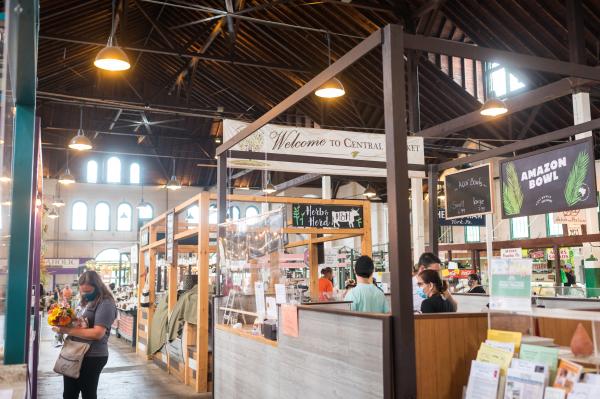 From Korean BBQ to fried chicken, fresh seafood to delicate crepes, Central Market House offers something for just about everyone. Grab your food and head out to a table in Cherry Lane Park for a lunch.
This romantic restaurant serves upscale cuisine and spirits in the historic environment of an original mill, featuring vegetables and herbs sourced from their own Tulsi Fields Farm, as well as other locally-sourced organic, sustainable, and humanely raised foods. the Mill is a unique farm-to-table experience. Take a seat at their romantically lit courtyard for a date night you won't forget.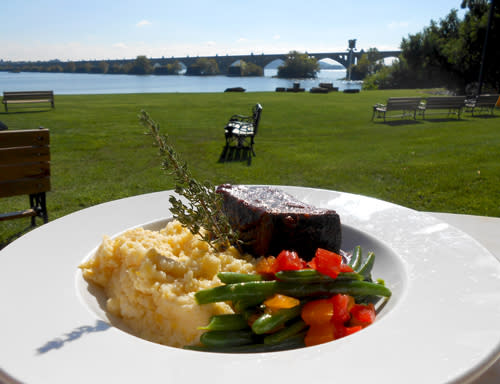 Set inside an old silk mill by the Susquehanna River, the John Wright Restaurant serves up a view to remember. Sit outside and watch kayakers paddle by the picturesque Wrightsville bridge all while enjoying an excellent meal.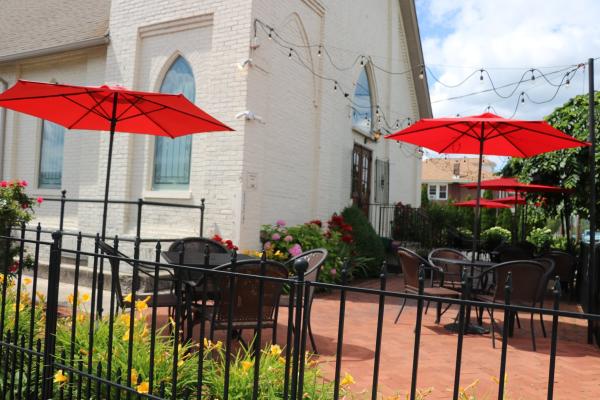 One of the top Italian restaurants in Pennsylvania, Victor's is set inside a beautiful renovated church, but also offers peaceful streetside dining on the Bella Patio. Don't miss out on specials like Meatball Monday and Friday Night Jazz. 
A beautiful American farm, Wyndridge offers stunning views of the countryside from its outdoor patio. Enjoy a refreshing hard cider, brick-oven pizza and more delicious farm-to-table fare by the gorgeous stone fireplace.