Wine Just Off The Vine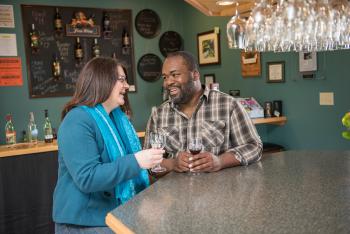 November 10-11 & 17-18
 Noon to 5 p.m.
This signature event hosted by the Mason-Dixon Wine Trail takes you on a journey through a collection of family-owned wineries stretching across southern-central Pennsylvania. The heart of the Mason-Dixon Wine Trail runs through York County, one of Pennsylvania's top destinations for handcrafted wine.
Wine enthusiasts and novices alike will enjoy the personal conversations with wine makers and educational presentations found along the way. Enjoy light food offerings, a souvenir Mason-Dixon Wine Trail wine glass and a 10% discount on wine bottle purchases.
Your ticket is good for both weekends and grants you admission to all participating wineries, just select the winery where you'd like to pick up your ticket and souvenir wine glass as your starting location and then you're ready to hit the trail!
Check out the list of participating wineries and a map of the trail with our rack card. 
Make sure you don't miss any announcements about this event and the rest of our Good Libations Trails by signing up for the Getaway Guide, our monthly e-newsletter, and follow us on Facebook.
Must be 21 or older. 
Groups - Wineries have their own policy regarding groups, and the use of commercial vehicles such as buses, limos and vans. Please contact the wineries you plan to visit before planning your trip to make the proper arrangements in order to ensure the best experience.
Designated Drivers - We strongly encourage you to use a designated driver when you explore the Mason-Dixon Wine Trail or make arrangements with our transportation partners to ensure a safe and enjoyable time exploring the York County area.
Still have questions? Email marketing@yorkpa.org.