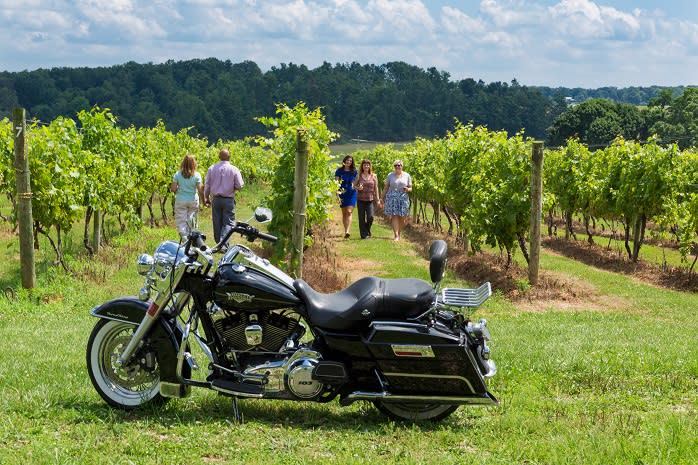 The first weekend of spring has arrived, and it looks like Saturday's shaping up to be a great day to explore the Mason-Dixon Wine Trail during the final weekend of Tour de Tanks.
It's also a great time to start working out the kinks in your golf game or pick up a new outfit perfect for the warmer weather.
Here are three ways to spend the first weekend of spring in York County:
Nothing says spring like dusting off the clubs and playing a round of golf. But after a long winter off, it might be time for everyone to get in some practice before teeing off.
Genesis Golf4Kids' Putt & Play Friday Night is the perfect way to shake off some rust, all while introducing youth to the great game of golf. The indoor facility features stations that can help develop everything from putting to chipping. There's even an indoor golf simulator.
Admission is $5 a person and $4 for kids 6 and under.
Don't worry: No golf experience is needed, and Genesis offers a setup for all skill levels.
We're finally due for some spring weather - and just in time for the last weekend of Tour de Tanks on the Mason-Dixon Wine Trail.
With temperatures reaching 70 degrees and partly sunny skies expected, Saturday's forecast should definitely include a round of wine tasting.
Make the most of it and visit the last few wineries on your list. Or experience Tour de Tanks for the first time: Tickets are still available at participating wineries.
Start spring with a shopping spree during Girlfriend's Weekend in Downtown York.
A special button, available for $5, unlocks exclusive deals at more than 15 participating locations this weekend. It's a great way to explore York, where you'll find public art, an diverse dining scene and, of course, plenty of boutique shopping options.
It's just one of the many happenings that make York an exciting place to visit this spring.