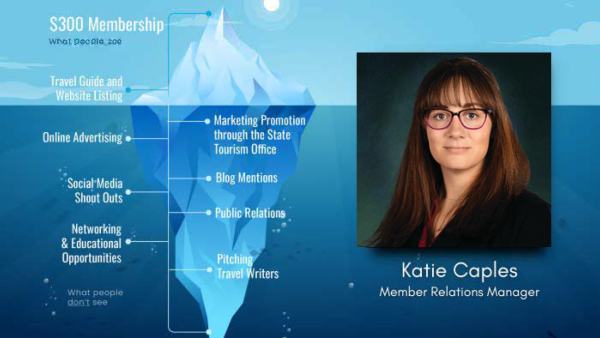 Are you thinking about joining Explore York? Here's 6 stats to help you plan your membership…
#1: $1 Billion Dollars
Visitors spend more than $1 billion in York County annually dining in area restaurants, staying in lodging properties, visiting attractions, and shopping in retail locations.
Don't miss out! Explore York can help you reach a diverse range of potential customers and grow your business.
Explore York is the official tourist promotion agency for York County and is accredited by Destinations International (DI). 
We actively market York County to leisure and business travelers, meetings and convention planners, group tour operators, sport and tournament organizers, and to the media.
We're a member-based destination marketing organization (DMO) with over 50 years of experience and more than 300 members. We'd love for you to join us!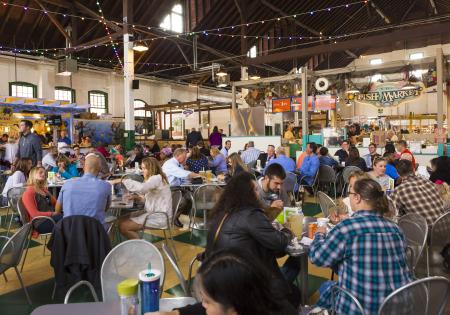 #2: You'll Receive Direct Member Benefits
Our most popular benefit is one free listing in our annual travel guide — they're distributed across the US and Canada, and we print over 100,000 copies each year! For only $.003 per impression, it's a smart marketing investment for your business.
In addition, as a member you'll also receive:
One free listing on YorkPA.org, which sees approximately 15,000 visitors each month.
Ability to submit events to our online Calendar of Events.
Ability to submit packages and special offers to our website.
Social media shout-outs across Facebook, Instagram, Twitter, and Tik-Tok.
Features in the York County Twist, our popular blog.
Promotion to media and visiting travel writers.
Access to additional Explore York marketing programs and advertising opportunities (check out stat #3 for more info).
Free participation in the annual Have It Made Here event (if applicable).
Invitations to exclusive member events such as FAM tours, networking events & professional workshops.
With a standard business membership starting at $300 annually ($175 for our nonprofit partners)… we're an affordable investment for your growing business.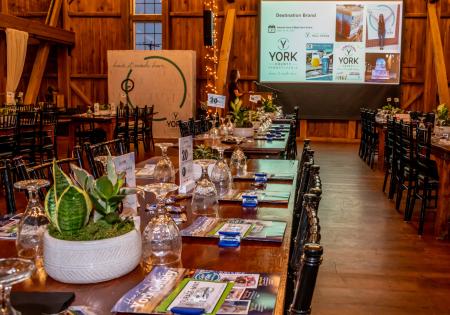 #3: Extend Your Advertising Reach
Advertising in Explore York's Official Travel Guide offers an excellent return on investment. We distribute over 100,000 guides annually at over 50 high-traffic locations and tourist attractions in and around York County, area lodging properties, each of Pennsylvania's 14 Welcome Centers, and AAA offices throughout the Mid-Atlantic region.
It's our primary fulfillment piece supporting all Explore York public relations and advertising efforts. We also provide guides to hundreds of visitors by request and mail guides to all 50 states and Canada. 
Depending on your advertising size and placement, there's something to fit your budget. For just $250, a highlighted travel guide listing makes your business stand out. Prefer to go big? A full page ad on the back cover is just over $6k for an annual ad that's in the hands of visitors daily.
You'll maximize your reach as you deliver your message directly to qualified buyers.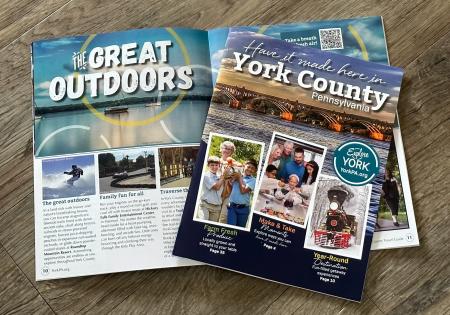 #4: Even More Marketing Opportunities
At Explore York, we're all about promoting your business in the most effective way possible. Check out these additional opportunities!
Our Brochure Distribution Program displays your brochures in over 50 racks throughout York County, PA. Think visitor centers, hotels, bed and breakfasts, restaurants, attractions, and more. 
There's so much value here, all for $560 each year. We limit the number of participants to 70 businesses, to maximize program impact. We ask participating businesses to provide 6,000 brochures to get started in the program.
Our Weddings Marketing Program is all about promoting you with an additional travel guide and website listing category aimed at this robust and always growing market.
For $100 (for members-only), you get an additional listing in our popular visitor's guide, and you get to choose the category: lodging, transportation, venues, or wedding services.
Our Annual Have It Made Here Event (each June) promotes the makers spirit of York County. Participating businesses open their doors for behind-the-scenes tours, hands-on demonstrations, or educational presentations about the products they make. The event promotes manufacturing, artisan goods, agritourism, and history.
Participation is FREE for all Explore York members! It comes with lots of promotion and buzz, too, from our website to social media platforms. It's a great way to connect with and nurture your audience.
Our Groups and Meetings marketing program targets motor coach groups, associations, meeting planners, and conventions across the county. As part of this program, you'll receive Request for Proposals (RFP's) and targeted sales leads, participate in trade shows, events, sales missions, attend quarterly sales meetings, and more.
With this additional membership ($200 for businesses, $100 for nonprofits, and $750 for full-service hotels), you'll have your very own groups and meetings listing. Categories include attractions, restaurants/catering, lodging, meeting space, shopping, transportation, and lodging.
Over 1,000 welcome bags are distributed to group and meeting attendees throughout the year containing the official Travel Guide, various York County-focused collateral, and fun and useful branded promotional items.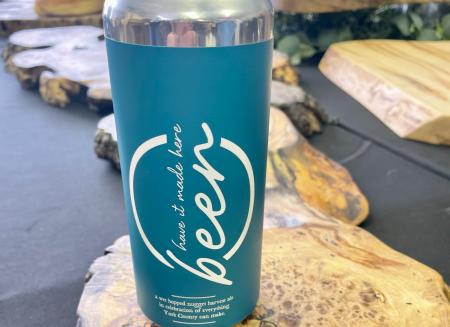 #5: Membership — It's All About Customization
You're at the center of what we do, and there are many opportunities to truly customize your membership experience.
An example? You get to pick your travel guide listing category, like Things to Do which includes museums, parks & trails, shopping, spas & salons, sports & recreation, and theater & the arts. 
Or Restaurants, which includes Cafes, Coffee & Tea, Snacks & Sweets, Casual Dining, and Upscale Dining.
Then there's Hotels & Lodging, which includes Bed & Breakfasts, Campgrounds, Hotels and Motels. 
Or Events, like the Good Libations Trails — a program to celebrate the wineries, breweries, and distilleries of the York County Area. We promote member visits through advertising and our digital passport program.
And finally, Visitor Services like Banks, Colleges & Educational Resources, Convention Centers, Healthcare, Relocation Services, and Transportation.
Plus, you'll be part of our wide network of tourism-focused businesses — with access to an impressive members-only database. Check out our member directory.
If one category is too limiting, you can purchase additional listing categories for $180. It increases your footprint in the travel guide and gives you a wider range of visibility on our website, too.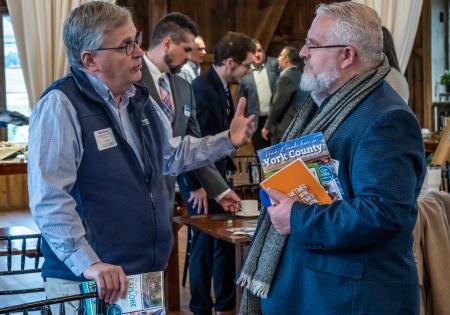 #6: We Drive Tourism Here in York County
Explore York anticipates more than 10,000 visitors in York County for the 49th Street Rod Nationals East. This show alone has driven an estimated $5 million of economic benefits into the York County economy in previous years.
You may be surprised to know that Sports is York County's biggest tourism driver through such events as the MLK Kickoff Challenge Volleyball Tournament and MAPL York Volleyball Tournament. These two events alone brought in over 5,000 young people, 600 parents or guardians and over 5,000 spectators. With an average stay in York County of two-nights. The economic impact of these tournaments combined was over $3.4 Million.
The tourism industry remains in recovery but the sports market in York County has been one of the fastest areas to rebound and is leading the economic recovery of tourism.
For each athlete who visited, York County welcomed on average an additional 2.5 guests.
And in May 2022, four travel writers and members of the International Food, Wine, and Travel Writers Association attended a Culinary FAM trip hosted by Explore York. 
The event included shopping in York, touring murals in Royal Square, and visiting Dill's Tavern, among other things. The writers posted more than a dozen times each to social media channels during their stay and each wrote two articles about their experiences.
All this is just a sampling of the incredible impact the Explore York team has here in our community!
Ready to kickstart your membership? Join today.

---
As the Official Tourist Promotion Agency for York County, we invite you to become a member. For more details or additional conversation, contact Katie Caples, Membership Relations Manager, at 717-852-9675 ext. 115 or Katie@YorkPA.org.