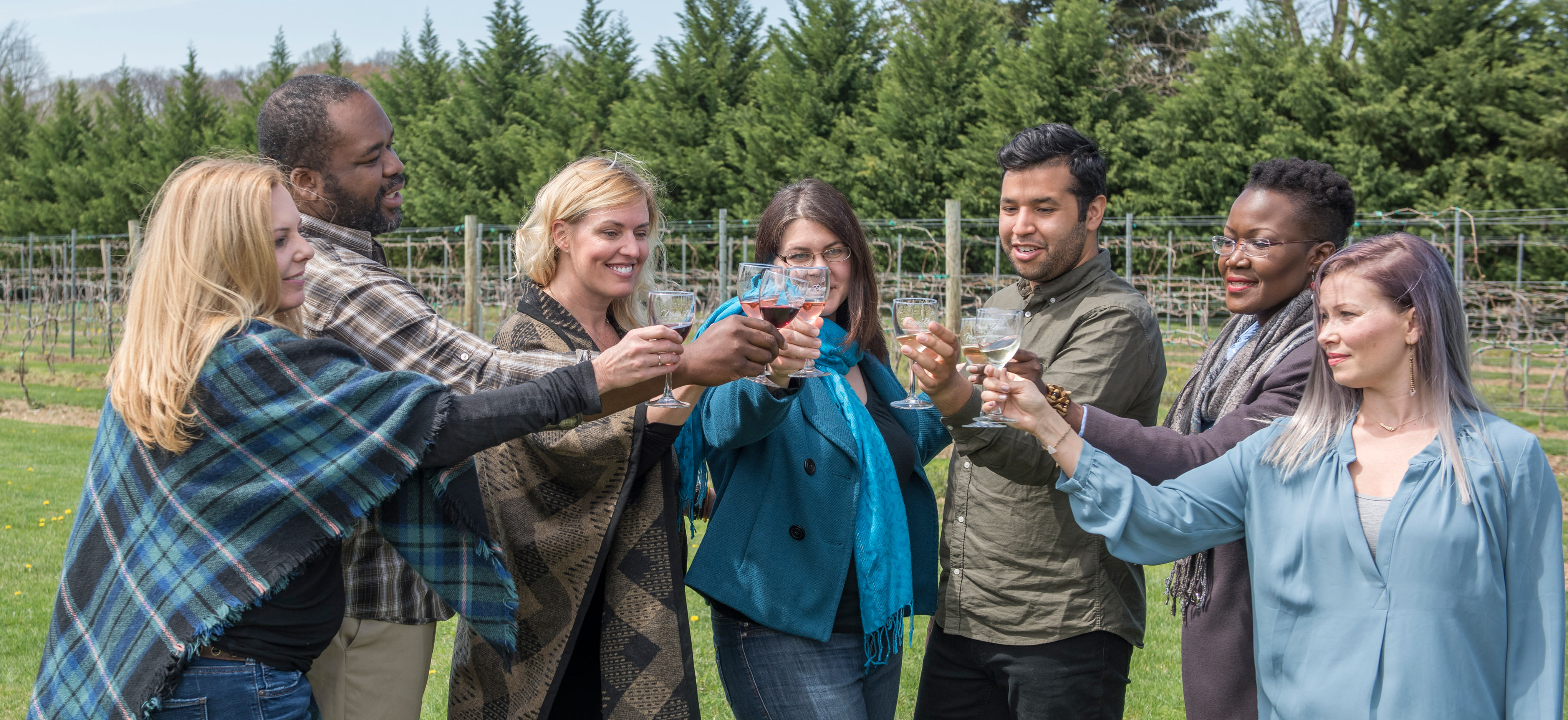 As spring rapidly approaches, what better way to toast the promise of warmer weather than sipping your way through the Annual Tour de Tanks hosted by the Mason-Dixon Wine Trail. Fifteen family-owned wineries throughout York County, Hershey, Gettysburg and Lancaster dotting the landscape of Pennsylvania Dutch country, and south to Baltimore, Maryland, are geared up for this year's must-attend escapade.

The annual wine-tasting event, now in its 13th year, will showcase local vintages and promote behind-the-scenes tours (in many locations) of the process of taking grape to glass. "Tour de Tanks takes wine enthusiasts beyond the tasting room and leaves them with a deeper understanding of the wine-making process," says Louise Heine, destination marketing director for York County Convention & Visitors Bureau, which organizes the event.

The purchase of a $30 Tour de Tanks ticket includes: admission to all 15 wineries on the weekends from March 3-25, from noon to 5 p.m.; a souvenir wine glass; 10% off wine purchases; light refreshments and exclusive barrel and tank tastings.

Be adventurous and plot your own path to enjoy a different experience at every stop - each one characterized by the uniqueness of its wines, ambiance and owner. But don't stress about planning your route! We want you to get the most bang for your buck, so we've made it easy to navigate the entire route by breaking the tour into specific areas of the trail.

York County serves as a great home base to start your trip. In this area, you'll find Four Springs Winery, which will be focused on giving visitors a personal experience, featuring barrel tasting of Chambourcin (a velvety red with notes of black cherry and soft tannins) and a tank tasting of Fat Cat (a sweet, smooth red with a full mouth feel). Also, you don't want to miss Logan's View Winery; Maple Lawn Winery; Moon Dancer Winery, Cider House and Taproom; and Naylor Wine Cellars.

Head west to check out Thunder Ridge Vineyards, tucked away just outside of Hanover. There, you can savor a dry and a sweet Vidal (a crisp, fruity off-dry white) this year. New for 2018 on the tour is Boyer Cellars. Located in beautiful Biglerville, Boyer is showing off its featured wine, Crabapple Imperial, made from Hyslop crab apples and York Imperial apples.

Slip over the southern border into northern Maryland, where some of the oldest vineyards in the state got their start. You'll discover three more winemakers on the trail. Known for their Cabs, Merlot, Chardonnay and Pinot Gris, you'll want to make it a point to visit Dejon Vineyard, Fiore Winery and Harford Vineyard and Winery.

Travel north toward Hershey and Harrisburg to round out your viticultural excursion. Five wineries call this region on the wine trail their home, including newcomer Cassel Vineyards of Hershey. After welcoming Cassel Vineyards, check out Spring Gate Vineyard and Brewery, The Vineyard and Brewery at Hershey, CrossWinds Winery at Hershey and Mount Hope Winery.

Don't miss out on this oenophile's dream-come-true. Here's what some of last year's guests had to say about the experience:

"I love visiting the wineries on the Mason Dixon Wine Trail. It's always an enjoyable weekend away with my sisters." - Carol of Hatfield, Pa.

"We really enjoy the chance to sample different wines in different areas. Travelling to the different wineries is nice as well giving us the chance to sight see. Some of the wineries have quite the history." - Robert of Lancaster, Pa.

"A wonderful time! A great couples' weekend and a lot of fun with multiple couples driving together." - Scott of Kingsville, Md.

Tickets can be purchased from March 1-25 at any of the participating wineries. You must be 21 or older to purchase tickets and/or attend this event. Designated driver/non-alcoholic wristbands are available for free, and do not include the souvenir wine glass or wine tastings. Pick up your wristband at your first stop.

Don't forget to stop by some of the York area's amazing restaurants, shops, museums and historic sites while you're there.

The Mason-Dixon Wine Trail is promoted and organized by the York County Convention & Visitors Bureau, the Official Tourist Promotion Agency for York County. Visit the Mason Dixon Wine Trail website for more information, including special overnight packages.