The holidays are nearly here! That means it's time to start checking names off your "nice" list. We know it's tempting to turn to internet shopping or big box stores for holiday gifts, but this year, we urge you to keep your shopping local. Not only does this boost the local economy, but it also supports local artists, artisans, shopkeepers and entrepreneurs who live right in your community!
For those living in and around York County, PA — you're in luck! Shopping local has never been easier or more fun, with so many fantastic shops to explore. No matter who you're shopping for (or even if you need to treat yourself during the hectic season), there's so much to be discovered in this lively, bustling region of Pennsylvania.
For Your Favorite Foodie
Ashcombe Farm & Greenhouse is so much more than a farm. Its on-site shop offers garden supplies, house plants and seasonal gifts, and also a well-stocked market with gourmet foods. Homemade cookies and pies make great last-minute gifts, or help a budding home chef expand his or her pantry with local honey, jams, salsas, maple syrup and more. Best of all, Adams County Winery has a small wine shop set up in Ashcombe's market, so you can pick up a bottle or two for someone who loves PA wines! 906 W Grantham Rd., Mechanicsburg; (717) 766-7611.
York's Central Market is a food-lover's paradise. While you may know it best for its abundant fresh produce, farm-raised meats and amazing cheeses, the Market also has plenty of delectable, giftable items. Teas and spices, addictively good pretzels and handmade confections are just a few of the delights you'll find! Looking for more than just food? Central Market is also home to Naked Chick Art. This local artist collective focuses on bringing quality art to the public. You will find handmade artworks and pieces that are created using natural, repurposed, reclaimed, and/or upcycled items. Items available include paintings on reclaimed barnwood and antique door panels, pottery, stained glass, hand-crafted woodworks, beaded and macrame jewelry, and home decor. 34 W. Philadelphia St., York; (717) 848-2243.
While you're at Central Market, don't forget to swing by Sunrise Soap Company, just around the corner. Its carefully crafted, natural body care products are great to have on hand for those extra gifts you find yourself needing throughout December, perfect for teachers, relatives, neighbors, yourself and anyone else! Store favorites include artisan soaps in wonderful scents, fizzy bath bombs and Sunrise Smackers lip balm. 29 N. Beaver St., York; (717) 843-7627.
The Market at Shrewsbury is another incredible place to shop for food-related gifts. Local canned goods, PA Dutch candies, locally-roasted coffee beans and vintages from Naylor Wine Cellar are perfect gifts for anyone who isn't shy about their PA pride! 12025 Susquehanna Trail S., Glen Rock; (717) 235-6611 x100.
The Markets at Hanover is another exciting place to pick up an array of food-related gifts. Spices, maple syrup, olive oils, coffee and other gourmet grocery items make stellar stocking stuffers for anyone who appreciates quality local ingredients. 1649 Broadway (Rt. 194), Hanover; (717) 646-1649.
For the Style Maven
Looking for chic jewelry, handbags, candles and more lovely gifts? Stop into the Christmas Tree Hill in The Mansion for a wide array of decorative and fashionable items. There are bracelets and baubles for every taste, bath and body products, home goods and plenty of Christmas cheer, like ornaments, stockings, nativity sets and so much more. 2840 Whiteford Rd., York; (717) 755-9290.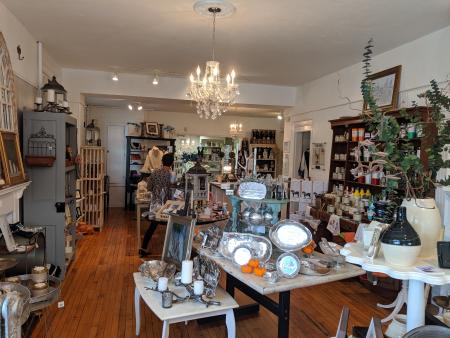 Kaletta's offers a unique selection of products including home decor, handmade and local art, ladies fashions, jewelry, baby and men's accessories. York's Urban Elegant Boutique will provide you with a "Unique Personal Shopping Experience." Visit kalettas.com for store hours and detailed information. 57 N Beaver St, York, PA 17401 (717) 854-0440.
Unique Finds for Friends 
Have a book lover on your list? Look no further than The York Emporium! Get lost in the stacks upon stacks of books, discovering new adventures in every page. Along the way, check out comics, records, and antiques tucked into every corner of this one-of-a-kind store. 343 W Market St, York, PA 17401 (717) 846-2866.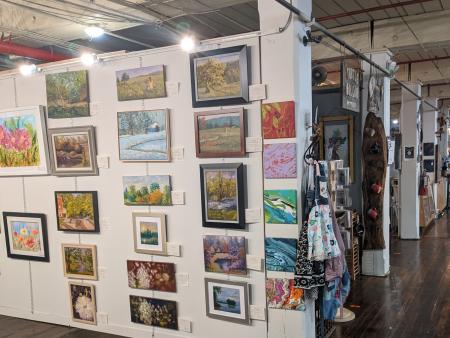 New York Wire Works is also home to The York Merchant – an original crafter's marketplace celebrating today's artisan spirit. This marketplace intends to build a culture of craftsmanship and a respect for all things found and made, centered in York, PA. 441 E Market St, York, PA 17403 (717) 650-2165.
Red Lion is home to South Central Pennsylvania's largest musical instrument shop, The Guitar Spot U.S.A. Over 300 stringed instruments tastefully displayed in a beautiful historic building. Premier dealers for iconic brands: Martin, Fender, PRS, Gretsch and many more. 30 N Main St, Red Lion, PA 17356 (717) 417-6561
For the Outdoor Enthusiast
Stop into Shank's Mare Outfitters, the place to go for outdoorsy adventures. Housed in a charming 1880s-era general store building on the Susquehanna River, Shank's offers a large selection of recreational, touring, fishing, kayaking, stand-up paddleboarding, hiking and cross-country skiing gear for sale. If you'd rather give an experiential gift, you can purchase kayak or paddle board lessons, hikes, paddling trips and more for the nature-lover in your life. 2092 Long Level Rd., Wrightsville; (717) 252-1616.
Flying Fleet Sport Shoes offers shoes for every sport, as well as high-quality gear of all sorts. Find jackets, backpacks, socks, hats, gloves and more from the best-rated brands to keep your favorite runner or athletic-type comfy and motivated all winter long. 1511 Mount Rose Ave., York; (717) 845-2833.
It's easy to shop for cyclists at the Whistle Stop Bike Shop! Its shelves are stocked with all of the tools, accessories and gear that two-wheeled riders need. Check out gloves, bike lights, locks, tools, saddles and more, with friendly employees ready to offer advice or answer questions any time. 2 E. Franklin St., New Freedom; (717) 227-0737.   
For the Antiques Aficionado
The Dover Antique Mall is an incredible place to shop for old and special treasures — just be sure to set aside ample time to look through the expansive space. With two full floors and over 130 vendors, it's impossible not to find something amazing at this unique mall. Furniture, collectibles, kitchenware and all kinds of ephemera await! 5010 Carlisle Rd., Dover; (717) 292-2629.
Lewisberry Antique & Craft Co. is a co-op that hosts 25 antiques dealers and craft vendors, with inventory that changes every week. From glassware to greeting cards, baseball cards to barn stars, silk rugs to silver jewelry, there is so much to find at this one-of-a-kind market that's housed in a temperature-controlled historic building. 206 Market St., Lewisberry; (717) 938-3200.
Morning Star Marketplace has so much going on under one roof: a farmers market, flea market and antiques mall! The antiques mall is known for a great selection of used and rare books, nostalgic toys and comics, old tools, glassware (we love the vintage milk bottles) and jewelry. You never know what you'll find here! 5309 Lincoln Hwy. W., Thomasville; (717) 792-1919.
For Fido
Don't leave your furry friends out of the holiday fun! Pick up a package or two of homemade, all-natural treats from Miss Lucy's Dog Treats for the lovable pooches in your family. Since 2004, this homegrown company has been making tasty baked dog bones in flavors like peanut butter, bacon and egg, bacon and cheddar, apple, banana, pumpkin and oatmeal, as well as beef and turkey jerky. There's even a special line of herbal bones for dogs that struggle with arthritis, dry skin and fleas. 5241 N. Salem Church Rd., Dover; (717) 292-6593.
We've only just begun to scratch the surface of the many ways to shop local in and around York County, Pennsylvania this holiday season. For more, check out Explore York's full shopping directory.
Stay informed of all the latest happenings year-round and visit York County, Pa. on Facebook and Twitter, or download the convenient Travel Guide here. Sign up for the Explore York Getaway Guide e-newsletter and the current calendar of events to stay connected.