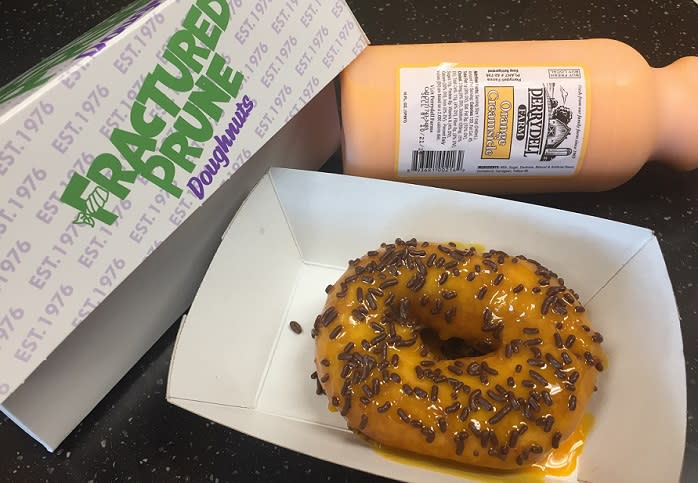 All the customers who walk into the Fractured Prune doughnut shop in Shrewsbury this Halloween season have a chance to play Dr. Frankenstein. But, don't worry, nobody's going to be creating any scary monsters, just tasty doughnuts.
With dozens of glazes and toppings at their disposal, customers can create mouth-watering masterpieces each time a doughnut emerges warm, fresh and crispy from the fryer at the Fractured Prune.
Your imagination is your only limitation, and it's particularly fun to let it run wild when a holiday such as Halloween is coming up.
We recently met up with owners Steve and Kim Hagee to help scare up a few flavor combinations perfect for the season, then dreamed up some of our own, too.
Pumpkin spice
OK, this one isn't frightening at all, but its flavors capture the fall season too perfectly to ignore.
Enjoy the pumpkin spice glaze on its own, or pair it with some graham cracker and powdered sugar to turns the doughnut into a circular slice of pumpkin pie.
It's especially delicious when enjoyed still warm, the outside still crispy and the inside still fluffy. Just biting into it reminds makes you feel as if you if you're enjoying a pie fresh from the oven as the chilly fall winds rustle through the changing leaves outside.
The pumpkin spice glaze is available only for a limited time, so make sure to try it soon! Fractured Prune also offers an Apple Pie doughnut if that's more your pie preference.
Orange and black
In a serendipitous coincidence, Fractured Prune released its new Orange Dream doughnut just last week. It features a tart orange glaze and powdered sugar topping.
That sounds delicious, but we thought we could tweak it a bit to make it a bit spookier. Tossing on some sprinkles, chocolate chips or cookie crumbs will give it the traditional orange-and-black look for Halloween.
Wash it down with an Orange Creamsicle from Perrydell Farm. Fractured Prune also uses milk from the local dairy farm in all its delicious milkshakes - another popular option to pair with the shop's tasty doughnuts!
Marshmallow ghost
If you're looking for a ghostly doughnut, then just have Fractured Prune dip your pasty into the marshmallow glaze. Then, top it with some mini-marshmallows to finish the look. It's not as intimidating as the Stay Puft Marshmallow Man, but it tastes good.
A vampire doughnut
Purple is an underrated Halloween color, but that won't be the case after your dip your doughnut into some of Fractured Prune's blueberry glaze. It has a nice purple color that conjures visions of Dracula wrapped in his cloak.
Pairing blueberry- and orange-glazed doughnuts will give your box a nice Halloween contrast.
Frankenstein's monster
So maybe you can try your hand at recreating Frankenstein's monster in a doughnut. Fractured Prune's standard Green with Envy doughnut certainly looks the part with its striking green mint glaze. It's also covered in chocolate chips for a classic flavor combination. 
Let us know your favorite holiday combination
Like we said before, your imagination is your only limitation at Fractured Prune. We'd love to hear some of your favorite Halloween flavor combinations, too! Email astaub@yorkpa.org with any suggestions, and we might share them on Facebook!
Also, keep a look out for some more seasonal favorites. The Fractured Prune is already mulling something with crushed candy canes, or maybe snicker-doodles, leading up to Christmas.