A knife and fork replace Cupid's bow and arrow at romantic restaurants across York County. Flickering candlelight, an intimate ambiance, elegant entrées, and decadent desserts set the stage for a romantic evening. For first dates, anniversaries, proposals, and upcoming Valentine's Day, here are some of the best restaurants in York, PA, to celebrate with your sweetheart:
Tutoni's Restaurant
There are three floors of different vibes at York's Italian/Mediterranean gem, ranging from quiet dining amid dark wood and sparkling chandeliers; velvety stools at the bar; and a retro Las Vegas-themed speakeasy.
The Chef's Table is the most requested for special occasions. Courses are customized for each table. 
"We have had a lot of proposals here," said Tutoni's general manager Amanda Small.
One couple came back a year later, wearing the same clothes, and by a stroke of serendipity, were seated at the same special table. "She just immediately started crying," said Small, who wasn't aware the seating was sentimental. "I was like, 'Sorry, do you not like this table?'"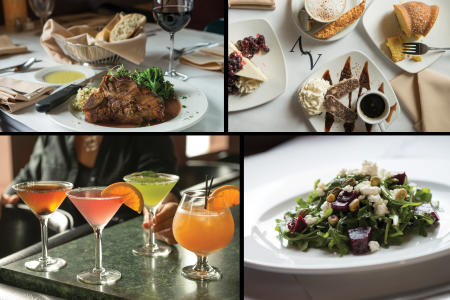 Proposals and romantic nights out are common at Victor's as well.
The Italian/Mediterranean restaurant in York is in a renovated 19th-century church with classic arched windows. It has a lively but dimmed, peaceful atmosphere, with soft jazz or Frank Sinatra music. On warmer nights, there's a patio with light-strung trees.
Valentine's features usually include a special martini and chocolate desserts. Entrées may be garnished with edible rose petals. That's amore!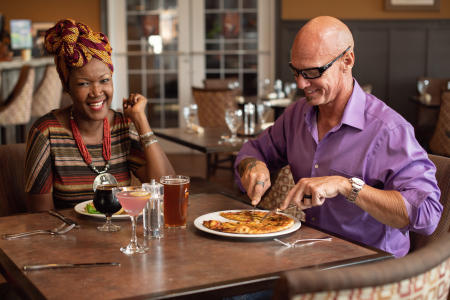 Wyndridge Farm is usually closed Tuesdays, but since Valentine's Day falls on one this year, a special five-course dinner is scheduled in the barn, starting with shrimp bisque and ending with red velvet cake.
Settle in at a cozy table and ask live musicians to play "your" song. The dinner will also be served on February 10 and 11.
For an amorous meal on a different schedule, the rustic dining room has low lighting and a crackling fireplace. In warmer seasons, sit outside for beautiful views of meadows, fruit and pine trees, and a hillside chapel where many have said "I do."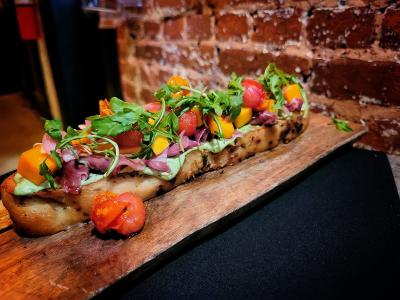 "Our love language is good food and trying new things," said Jessica Ayala, who owns this York restaurant along with her chef husband, Robert.
That love language comes across in their menu, an exotic mix of global tastes in small, tapas-style plates and larger entrees to share, from deep-fried lobster "fingers" with Creole remoulade, to Korean chicken confit with five spice potatoes.
Cocktails and desserts are just as innovative, such as the spiced plum upside-down cake and an array of syrups that are anything but simple.
Cuddle with your loved one in the candlelit dining room or couples' terrace, taste-testing each other's dishes and drinks.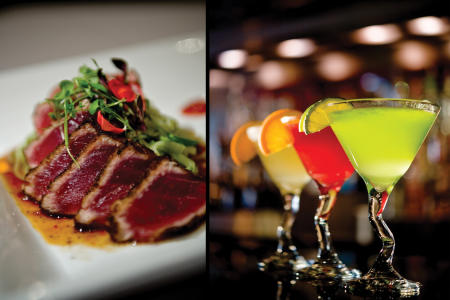 For some Shakespeare in the atmosphere, reserve a spot along the library-like shelves of old books. The check is even brought in a book.
Another unique touch about this York restaurant is the mix and match. You choose the sides for meat and seafood mains, or just choose sides as the whole meal!
A limited-seating "Aphrodisiac Chef's Table" is scheduled for Feb. 9. It features three courses, with a wine pairing for each, and an aperitif cocktail.
If All You Need is Love (and Wine)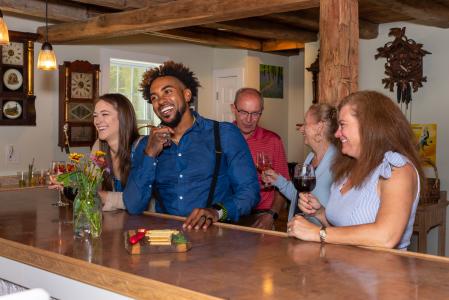 Not "feeling" a formal dinner? Wineries in York, PA, can satisfy the desire to celebrate with that special someone. Toast to the two of you and nibble on light bites at Allegro Winery and Balla Cloiche Vineyards, both in Stewartstown.