The Chocolate Lovers' Guide to Chocolate Wines!
All you need is love. But a little chocolate now and then doesn't hurt. ~Charles M. Schulz
February is for lovers, chocolate lovers that is! That's right, February is chocolate lovers' month, and we are ready to celebrate. There is no more classic pairing than chocolate and wine, and boy have the wineries along the Mason-Dixon Wine Trail come through in a big way to satisfy your chocolate cravings.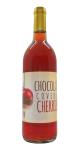 Chocolate Covered Cherries - This sweet, apple-based tart cherry wine has a rich, chocolate finish. It's like a box of chocolates with a cherry explosion in a bottle! Mount Hope is offering a special bundle featuring their Chocolate Covered Cherries wine through the end of February. Get all the details here!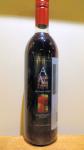 Armstrong Velley Winery:
Midnight Desire - Dark & mysterious, the Midnight Desire is a blend of Armstrong's Mixed Berry Wine & dark chocolate flavors.  Sweet & delicious, it takes you to a wonderfully profound berry place with hints of dark chocolate.  Yum!
Afternoon Delight - A sinfully delicious blend of Armstrong's Sweet Strawberry Wine & dark chocolate. Wonderful by itself or with some cheesecake.

Cassel Vineyards of Hershey:
Chocolate Port - This dessert wine is made with "Estate Grown" grapes and fortified with brandy and chocolate, flavors of chocolate and cherry on the palate.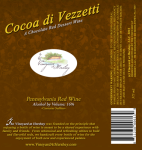 The Vineyard and Brewery at Hershey:
Cocoa di Vezzetti: Fortified with brandy and aged with a blend of roasted cocoa nibs, this unique and curious port style wine has notes of chocolate covered cherries.
Moon Dancer Winery, Cider House & Tap Room:
Merlot- Luscious layers of fruit, chocolate, toasted oak and silky tannins
Blue Moon Port- TSO-Richly fruited & complex, hint of ripe berries, fig, chocolate & spice