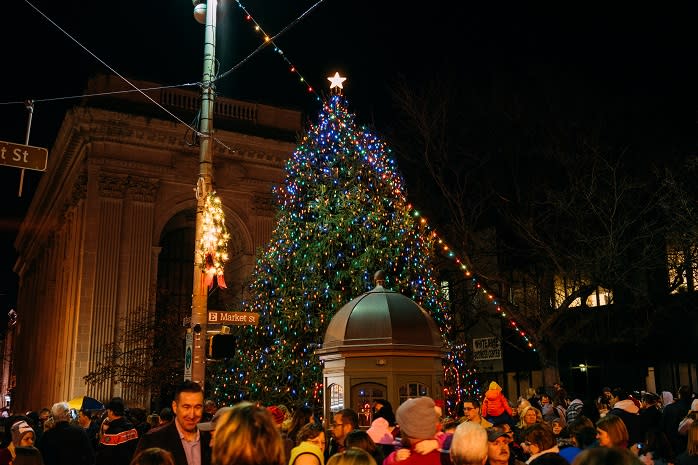 The holiday season marches on in York this weekend with a bash that will light up the entire downtown. Plus, you can enjoy a day of history or a night sipping on some wine as you create an artistic masterpiece. Here are three ways to spend your weekend in York County, PA.
Friday: Light Up York ushers in the holiday season
The biggest First Friday celebration of the year will cap this week with Light Up York. The city will light its 30-foot Christmas Tree on Continental Square, with family-friendly entertainment, complimentary hot chocolate and other holiday activities planned.
Because it's First Friday, Central Market House and downtown businesses will keep their doors open later than usual. It's a great time to kick off the holiday season and find some one-of-a-kind gifts for everyone on your shopping list!
This year's tree lighting will also feature the sealing of a time capsule celebrating York's 275th anniversary.
Saturday: Explore York's history - all 275 years of it
Given that Friday marks the sealing of the time capsule, Saturday's a perfect time to check out the York County History Center's York City: 275 Years of History exhibit.
You'll learn about the significant events, people and everything else that helped shape the historic city, once home to the Continental Congress.
Sunday: Paint a masterpiece; sip some wine
End your weekend on a relaxing note at Pinot's Palette, where you can bring a bottle of wine to enjoy as you paint a holiday masterpiece.
Sunday's painting features an adorable owl surrounded by falling snowflakes - the perfect painting to add some cheer to the winter season! The fun runs from 7-9 p.m.