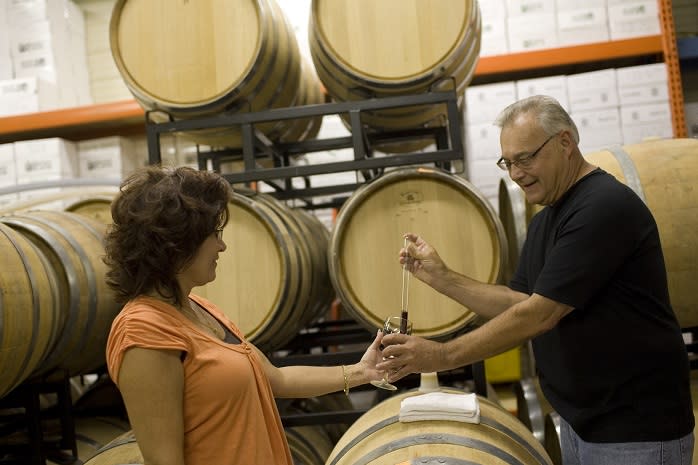 March always means wine in York County.
Tour de Tanks on the Mason-Dixon Wine Trail starts this weekend and runs through March 26, offering plenty of opportunities for a girls getaway or a couples' retreat.
Consider coming into York Friday for dinner and a show and stick around for more wine on Sunday.
Here are three ways to spend this weekend in York County, with a focus on the vino:
The First Friday Jazz in the City Concert Series continues at the Strand Capitol Performing Arts Center, with Extremity featuring John Harris, Don Carn, Mark Huber, Mack White and Jeff Stabley.
With the concert running 5-7 p.m., you'll want to grab dinner afterward. It's Restaurant Week York, so there are plenty of amazing specials to choose from! Make your reservations today.
Toast the return of spring with the ultimate wine getaway.
Tour de Tanks on the Mason-Dixon Wine Trail connects visitors with 17 family-owned wineries, where couples will enjoy exclusive tank and barrel tastings plus special tours and presentations that explore the world of wine. 
The heart of the Mason-Dixon Wine Trail runs through York County, but also takes wine lovers on a journey across central Pennsylvania and northern Maryland. Enjoy stunning views of beautiful country vineyards as you sip on some of the best handcrafted wine in Pennsylvania.
When the day's tastings come to an end, enjoy dinner at one of York County's many farm-to-table restaurants, then curl up together in a charming bed and breakfast.
Special lodging packages are available and may even come with a bottle of wine awaiting your arrival.
Tour de Tanks runs noon to 5 p.m., Saturdays and Sundays, March 4-26.
From pruning tips to learning how to grow your own tomatoes, the PA Garden Show is your one-stop shop for spring gardening tips and much more.
Tickets are available at the door. Admission is $10 for adults, $9 for seniors and free for children 12 and under.