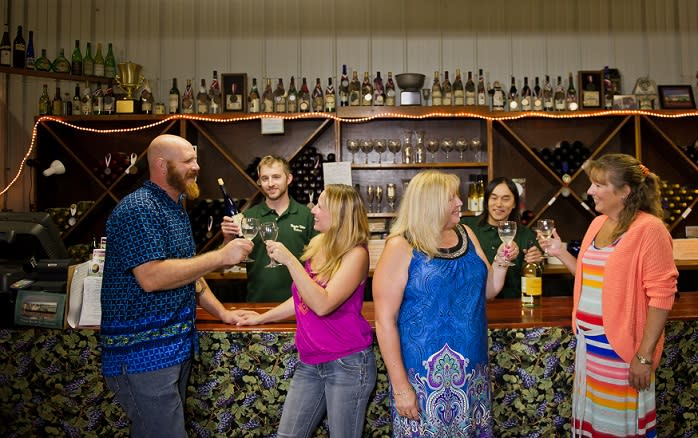 January's flying by, and we've got another jam-packed weekend coming up to help you pass the time.
Naylor Wine Cellars is ready to host one of its most popular tasting events, plus a thought-provoking art series is in town. And, to cap off it all off, Star Wars geeks won't want to miss what the Strand-Capitol has planned for Sunday.
Here are three ways to close out January before we start gearing up for Valentine's Day!
What if advertisements didn't include words or the brand - just an image?
That's a question that Hank Willis Thomas explores in his Unbranded series that features advertisements from over the years. When the words are removed, the images left behind give viewers a glimpse into the culture of the time.
Some of Thomas' thought-provoking work - Unbranded: A Century of White Women - can be seen for free at York College Galleries during regular hours Monday-Friday.
Even if you can't get there during the day Friday, there'll be other opportunities to see Thomas' art, including at a lecture/reception on February 9.
Gather up the girls for a ladies weekend at Naylor Wine Cellars, York County's oldest winery and a staple of the Mason-Dixon Wine Trail.
The winery is hosting another Wine, Women and Chocolate tasting event this weekend. Enjoy gourmet handmade chocolate paired with award-winning wine, plus pick up something for yourself from one of the local vendors attending.
Act fast because tickets don't last. But don't worry: If you can't get a ticket, you can still have a wine weekend thanks to plenty of other happenings along the Mason-Dixon Wine Trail.
Star Wars fans are already giddy for The Last Jedi, the next installment of the inter-galactic saga. Episode VIII isn't due out until December, but you can still get your fix of the force this weekend at the Strand Capitol Performing Arts Center.
Described as an "uber geek," Canadian actor Charles Ross will bring his One-Man Star Wars Trilogy show to the downtown theater on Sunday. Fans can expect a whirlwind show that takes them from the deserts of Tatooine all the way to the Ewok Village on Endor - all within 60 minutes.
That's almost as impressive as making the Kessel Run in 12 parsecs!