PA Civil War Trail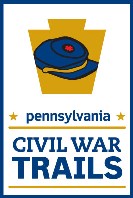 Discover Pennsylvania's Civil War Trail in York County, PA.
Walk in the footsteps of the men and women who endured one of our nation's greatest struggles as you travel Pennsylvania's Civil War Trail in York County, PA. Along the trail, you'll discover stories of the pivotal events that led up to the historic Battle of Gettysburg and changed the course of our nation's history forever.
The trail, which spans Pennsylvania's Dutch Country Roads Region, stretches across York County , featuring 13 interpretive markers that denote significant stops along the way.
Discover stories of the courageous citizens who burned their bridge to stop the Confederate advance moving toward Harrisburg. The stone piers of the original bridge still stand in the river today, a reminder of one town's sacrifice to save a nation.
Explore the story of William Goodridge, a prominent African American business man who used his means to help others to freedom as a stationmaster along the Underground Railroad. Goodridge's home still stands today and is currently being converted into a museum dedicated to his legacy.
Although he will always be known for his final infamous Battle at the Little Bighorn, Brig. General George Custer was a pivotal figure during the Civil War. Historians have said that it was his defeat of the Confederates during the Battle of Hanover that paved the way to a Union victory in Gettysburg.
Discover these stories and more as you travel Pennsylvania's Civil War Trail in York County, PA. Along the way you'll uncover delicious dining spots, outstanding shopping and first-class lodging locations sure make your getaway great!
Cool Tools!
Check out the official Pennsylvania Civil War Trail site to start planning your journey today!
Download and install the custom Civil War file and the latest version of Google Earth for an interactive and three-dimensional virtual experience along Pennsylvania's historic Civil War Trails.
Explore super high resolution images of area battlefields and historic sites for a preview of what you'll see during your visit.